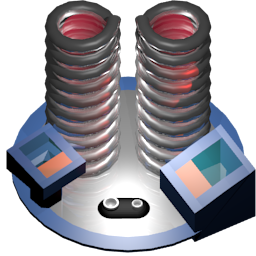 This is a Power Station, It needs to be powered before you can proceed to the next level. Some levels have none, some may have more than one. The good news is, wherever there is a Power Station, there is a ZPEM (energy module) waiting for you to pick up. Sometimes it's wise to finish everything there is to do in a level before dropping off the ZPEM into the Power Station.

This is a Zero Point Energy Module. The most precious item in the game. You want it.


This is block moves if you give it power. Follow the yellow cable attached to it to find the socket. The socket needs a Capacitive Block to be powered. Note the direction of arrows on top. This is the direction of movement of the block. Sometimes it may need unblocking before it can slide.

Capacitive block needs to be zapped first before it can power a socket. Shoot it, then push it.